Posted on 3rd February 2021 by Edwin Katerberg
Whether you're picking out glasses for the first time, or simply updating your look, selecting the proper pair of frames to complement your face could seem foreign and overwhelming. The key to a speedy decision may lie in your own face, as its shape will determine what frames look best on you. Understanding your profile will help in selecting frames to highlight your best facial features and create a sense of balance. So, if you haven't already, it might be time to ask yourself, "What is my face shape?"
Square Face Shape
A square face measures about the same from the length of your face, hairline to chin, and the width of your face, from ear to ear. Moreover, the width of your face stays the same all the way down, from forehead, to cheekbones, to jaw. If your face is square, you probably have been told that you have a strong jawline.
A square-shaped face can look best in rounder frames to create contrast and soften the lines of your face. Either round frames or ovals will work. When considering frames for square-shaped faces, we recommend the GUNNAR Attaché, a round frame with fashionable modern styling. The frames come in a variety of colors, including onyx, tortoise, dark red, tortoise rose fade, blue crystal, and rose crystal.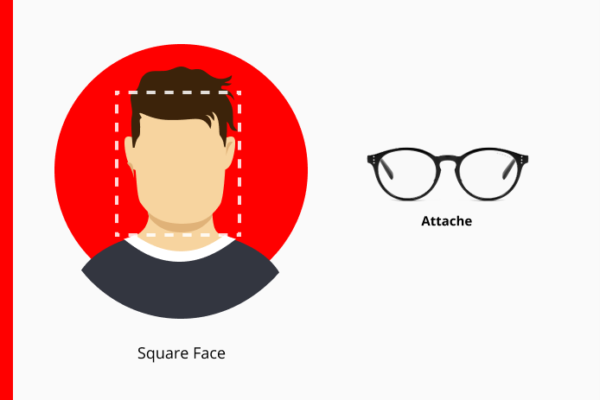 Square face shapes measure about the same length as width.
Oval Face Shape
An oval face shape is longer than it is wide. Features will be more even; with the widest part of the face at the cheekbones and a more narrow forehead and jawline. The oval face shape is considered the best and most versatile of all the face shapes, as it can show off almost any type of glasses frames or hairstyle. Since oval faces have such perfect proportions, there aren't many styles of glasses you can go wrong with.
For gamers with oval faces, we recommend the GUNNAR Intercept or GUNNAR Pendleton frames. Both are bold, stylish frames that are better suited to an oval face shape than any other. Remember, though, that the benefit of having an oval face shape is that you can pull off virtually any look you want, so while we've got our top picks for you here, you can really go with whatever speaks best to your own personal style.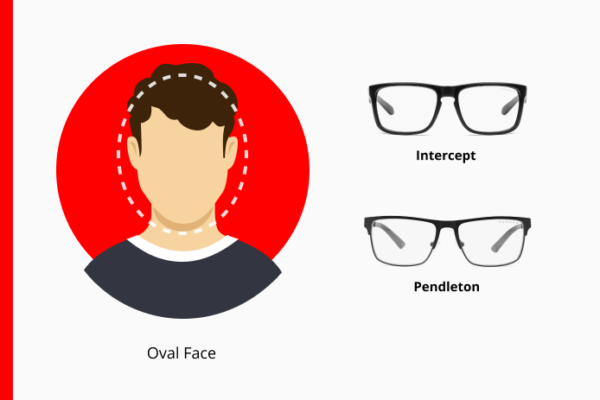 Oval face shapes are longer than they are wide.
Heart Face Shape
If your face is a heart shape, it will have a wide forehead and eye area, tapering down to the chin. Heart-shaped faces also tend to have higher cheekbones, exaggerating the effect. This face shape is typically considered cute, especially on women, but the wrong frames can accentuate the angles and give your face a sharp look.
The best frames for a heart-shaped face are slightly rounded to balance the sharp angles of a narrowing lower face. You can also help to balance your tapered features by choosing a slightly oversized frame. We recommend either GUNNAR Menlo or GUNNAR Infinite, both of which are eye-catching round frames. Menlo features a heavier, modern-looking frame that comes in either onyx or emerald. Infinite is a thinner stainless steel frame with vintage styling that is available in either onyx or a sophisticated gold tone.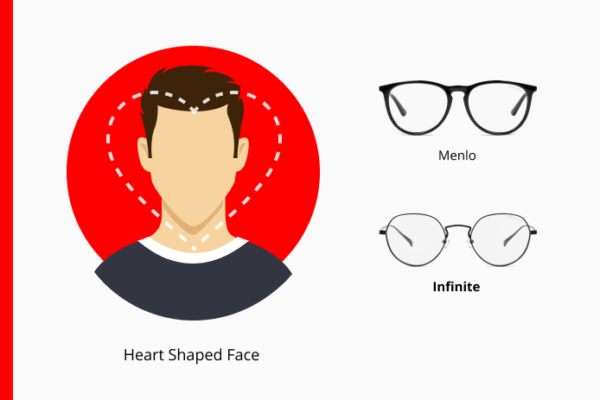 Heart shaped faces are wider in the forehead and eyes, and taper down to the chin.
Round Face Shape
Round face shapes are no longer than they are wide, but unlike square faces, they taper slightly at the forehead and jaw for a more pronounced roundness. If you have a round face, you may have been told before that you have a "baby face," and if you wear your hair long, you've probably also noticed that too much volume is unflattering because it draws attention to your face's roundness.
To help avoid making your face appear even rounder, consider looking into square or rectangle frames. These styles will balance out the roundness of your face, rather than accentuating it. Wide rectangular frames can also make your face appear longer and less round. GUNNAR Vertex and GUNNAR Enigma are two rectangular frames that look great on round faces. Vertex is a trendy heavy frame in onyx that will keep you looking trendy, while Enigma is a slightly more oversized frame that comes in onyx, smoke, and crystal.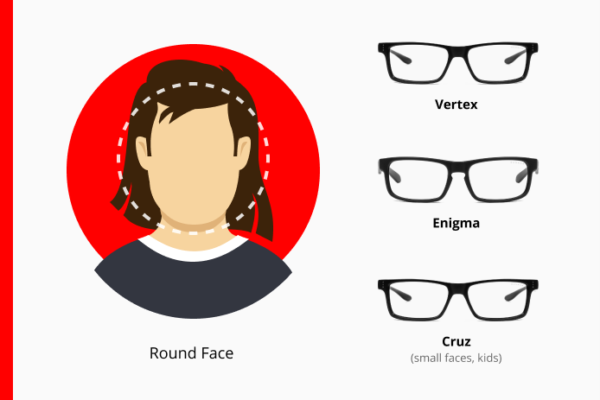 Round face shapes are similar to square, but taper at the forehead and jaw.
The Perfect Frames for YOUR Face Shape
There are plenty of different face shapes. Ultimately, when styling your eyewear, the best pair of glasses you can choose are made to help YOU. No matter what your face shape is, if you don't like your frames, you won't feel comfortable wearing them. Face shape is just one set of guidelines to help you make your choice, but in the end, what's most important is picking out something that you love, because that's the best way to make sure you'll love the way you look.